Stand With Uyghurs
Jewlan sings "Happy Birthday to You" to his mother, Suriye Tursun, at a public rally. Suriye has been missing since 2018, and has allegedly been sentenced for "assisting in terrorist activities".


There has been an increasing amount of disinformation and deniers about the validity of this issue. Here are testimonies of victims' families compiled by Uyghur Pulse. Take notice of disinformation and keep pushing to close the camps.
i'm also open for suggestions or additions, message me on instagram
Who are Uyghurs?
The Terminology Normalisation Committee for Ethnic Languages of the Xinjiang Uyghur Autonomous Region recommends that the spelling Uyghur, corresponding to the pronunciation [ujγur], be used as the English transcription of the word. (source)

Uyghurs are ethnically and culturally Turkic people living in the areas of Central Asia commonly known as East Turkistan. The Uyghurs have a rich cultural history going back almost 4,000 years.

Before embracing Islam in tenth century, Uyghurs believed in Buddhism, Manichaeism and Nestorian Christianity. Today, Uyghurs practice a moderate form of Sufi Islam and lead predominantly secular lives.

With only a few extremely rare exceptions, Uyghurs continue to be the only population in China consistently subjected to executions for political and religious offenses.
Genocide of Uyghurs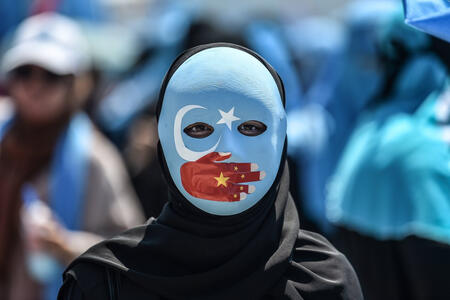 Uyghurs concentrated into state-sponsored concentration camps (advertised to the global public as 're-education camps') are one of the many ways Xinjiang China tries to eradicate Uyghurs.

In 2018, a United Nations human rights panel said that it had received many credible reports that 1 million ethnic Uyghurs in China have been held in these so-called "re-education camps". Many reports cite up to three million Muslims are held in 500 different concentration camps. (source).

China is also destroying Uyghur burial grounds, effectively trying to fully eradicate Uyghur's ethnic identity and ancestry in Xinjiang. (source)

Xinjiang government is also destroying cultural sites in Kashgar's Old City, a site that holds numerous historical touchstones and cultural significance to Uyghur Muslims. (source 1) (source 2)
UHRP also reported many Uyghur academics and religious figures detained and missing. (source)

Professor Ilham Toti arrested in January 2014Professor Rahile Dawut, ethnographer and Uyghur folklore expert detained since Dec 2017.Translator and poet Abduqader JümeUyghur Imam Abduheber Ahmet jailed in 2018 for 5 years Former Editor in Chief of the Xinjiang Cultural Journal and prominent journalist Qurban Mamut detainedUyghur rapper Ablajan Awut Ayup detained and sent to concentration campPhotographer Lu Guang arrested in China on November 2018Poet, writer and screenwriter Perhat Tursun Xinjiang University president Tashpolat TeyibAcademic translators Abdulqadir Jalaleddin and Muhammad Salih Hajim (who died in custody in early 2018)
Extensive bibliography compiled by Professor Magnus Fiskesjö [email protected]
Petitions
do not donate to change.org petitions. your donation does not go directly to the cause!
Support Uyghurs
Here are some ways you can help amplify Uyghur voices and culture.
Activists and Advocacy groups